EASY MAKEUP TIPS THAT ANYONE CAN DO : It's no surprise that the cosmetics industry has flourished in recent years,
thanks to the popularity of makeup tutorials and beauty bloggers. Did you
know the worldwide cosmetics industry will be worth $85 billion by 2024?
That might explain why cosmetics are so pricey!
And those beauty blogs sometimes seem like they're speaking to
specialists rather than the typical customer. Whether you're just starting out
in the realm of cosmetics or want to refine your look, here are 10 QUICK
AND EASY MAKEUP TIPS THAT ANYONE CAN DO
1) BEGIN WITH YOUR EYES
Perfecting your eye makeup might be difficult, which is why you should do it
first. If you make a mistake, you may easily repair it without affecting the
makeup on the rest of your face.
2) FOR THE PERFECT CAT EYE, USE SCOTCH TAPE.
It's simple to replicate Taylor Swift's characteristic cat eye, and you don't
need the help of her personal makeup artist. Two pieces of scotch tape are
all that is required. Place a piece beneath each eye at the same angle as
your cheekbone contours. After that, apply your liner. The best thing is that
if you make a mistake, the tape will remove it!
3) APPLY NATURAL COLORS TO YOUR EYES
Dark hues may make a statement, but they can also be too much for a
daily appearance. Eye shadows that complement your skin tone may make
your eyes appear larger and more alert, while a thin line of white eyeliner
on the inside rims of your eyes can also make them appear broader and
brighter.
4) ENHANCE YOUR BROWS
You want to bring favorable attention to your brows since they emphasize
your face and play a significant function in communicating with people.
Apply your concealer softly beneath each brow. This will make your
perfectly arched brows appear higher and more arched, giving you a brow
lift without surgery.
5) CURL YOUR LASHES TWICE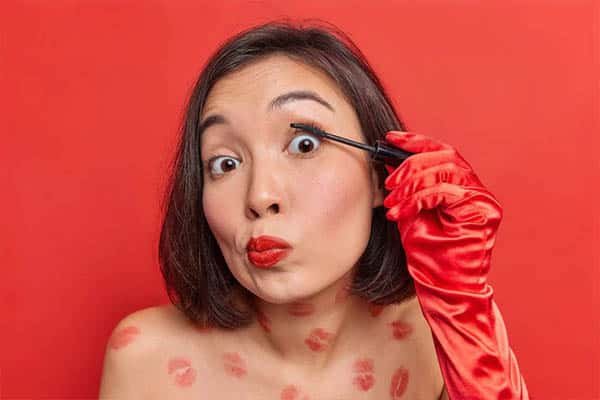 You don't need false lashes to have beautiful lashes. Curl your lashes as
usual with your eyelash curler. Then, turn your wrist so that the curler is
upside down and curl your lashes once more. This will give your lashes an
additional curve, making them appear longer. Turn on your blow dryer and
softly heat up the lash curler to retain the curl all day. It's like having an
instant curling iron for your lashes!
6) APPLY CONCEALER IN THE FORM OF A TRIANGLE.
Concealer may conceal any flaws, even dark under-eye circles. Most
individuals dab a few dots of it beneath their eyes, but a triangular shape is
a better approach to hide those circles. Draw an upside-down triangle from
the inside corner of your eye to the outer corner of your eye, and down to
the centre of your check. Blend the concealer into your skin gently for a
brighter, fuller appearance.
7) VERTICALLY HOLD YOUR BRUSH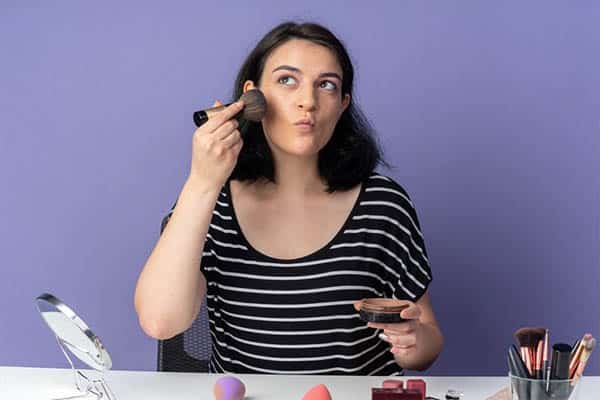 When applying color to your cheeks, aim for a rosy hue. You don't want
them to resemble a sloppy oil painting. To avoid this, hold the brush
vertically rather than horizontally so that only the proper quantity is applied.
8) APPLY LIPSTICK TO YOUR CHEEKS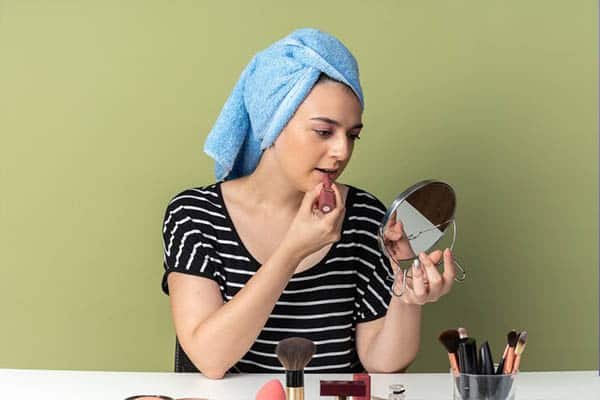 Have you used up your blush? Don't freak out. For a natural-looking glow,
lightly coat your fingertips with a red, pink, or coral lipstick and softly rub on
the apples of your cheeks.
9) USE A LIP BRUSH
Brush your lips softly, as if you were cleaning your teeth, with an old
toothbrush and some lip gloss. This will eliminate any dry, flaky skin,
leaving your lips softer and kissable.
10) MAKE YOUR LIPS APPEAR FULLER, BUT IN A NATURAL WAY
Large, luscious lips are trendy right now, but the secret is to keep them
looking natural. Instead of sketching the whole shape of your lips, plump
only one section. Overdraw around the bottom of your lip or the Cupid's
bow (the centre of your upper lip). If you don't have lip liner, a tiny line of
foundation around the Cupid's bow would suffice.
Also refer to : 10 Amazing Ways To Care For Your Hair