These fifty-four extraordinary works by the top ten animal bodypainters on earth display optical deception at its most advanced degree. Exact detail, adept brushwork, and bright colors come together to make an ideal setting for wildlife scenes.
Examine further. Covered up by all the body paint is a collection of unbelievable optical illusions that illustrate humans changed into animals.
These masterpieces require deep contemplation and concentration before you notice a woman's hand here, a foot there, and a curving back.
These illuminating pictures will alter the way you perceive animal body art and pictures forever.
1) Scorpio Trina Merry
Trina Merry, a body painter from Dallas, TX, is recognized for her creative and eye-catching body painting skills. Her artwork has been shown at a variety of places, including the Whitney Biennial, the San Jose Museum of Art, the Attleboro Arts Museum, and the Museo De Bardini in Florence.
2) Baboon Lennette Newell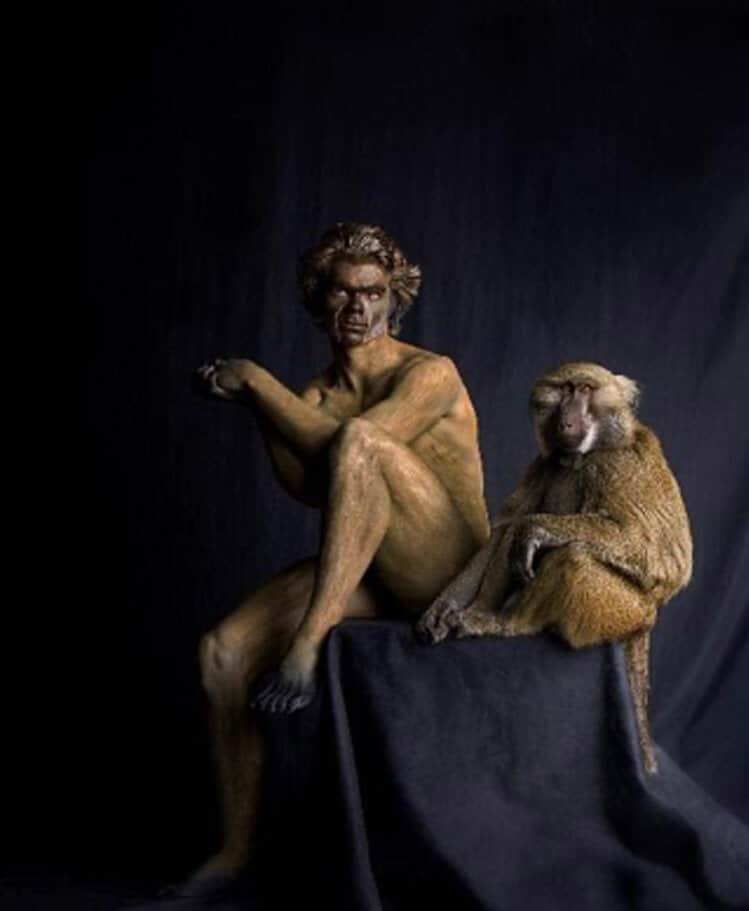 The model and the baboon appear at ease in a formal photography setting, sharing a similar pose
3)Parrot Johannes Stoetter
A sizable bird was curiously awaiting your words while perched on a cut-down tree trunk.
4) Hen Guido Daniele
That chicken appears to be requesting her morning meal. The model's hands are almost undetectable in this photo because of its incredibly realistic appearance.
5) Giraffe Emma Fay
Emma Fay, located in the United Kingdom, is a bodypainter who is able to create amazing images due to the fact that her models are contortionists. As a result of her models being contortionists, Emma Fay is equipped to bring her art form to life in a manner that other artists are not able to.
Her Marvels of Nature collection is particularly impressive, displaying attractive animals such as seahorses and tarantulas. She paints them onto the models, with a white background and precise outlines that are signature to her particular style.
6) Honeybees Shannon Holt
A honeybee is shown buzzing around the model's head.
7) Parrot Wiser Oner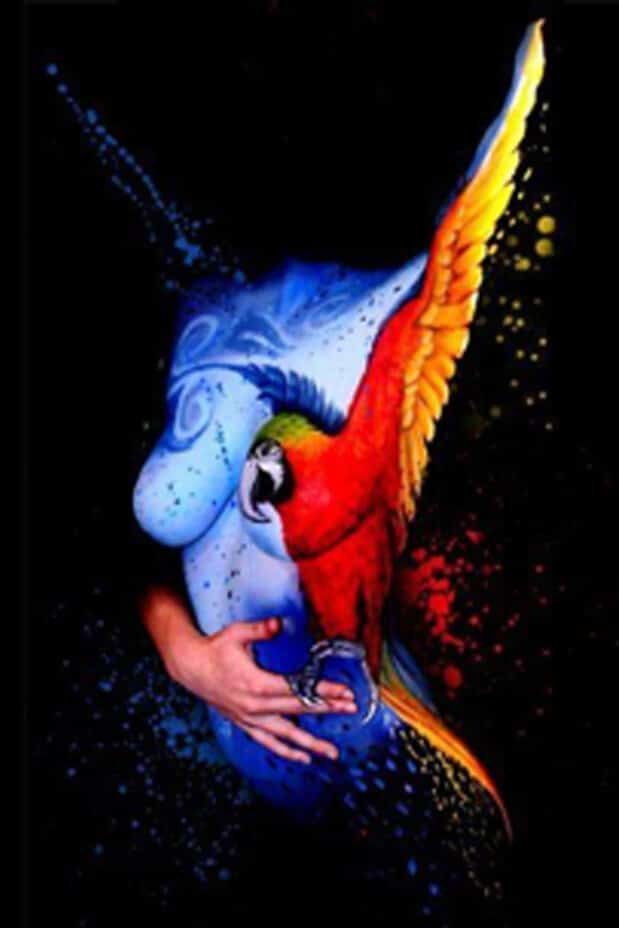 The artist has made it appear that the model's hand is serving as a roost, as the incredible parrot appears to be coming in for a landing
8) South China Tiger Craig Tracy
The Nature Series of the artist is one of his most renowned masterpieces and he was also the recipient of the renowned World Body Painting Festival. He puts together his animal figures with the use of posture and composition of the model and then captures it with a camera.
9) Seahorse Emma Fay
The seahorse is ready to take you on a ride through the sea of colour!
10) Crab Emma Fay
An incredibly conspicuous crab made of several coats of orange, red, and black paint seems to be pondering running away to the shore.
11) Fox Shannon Holt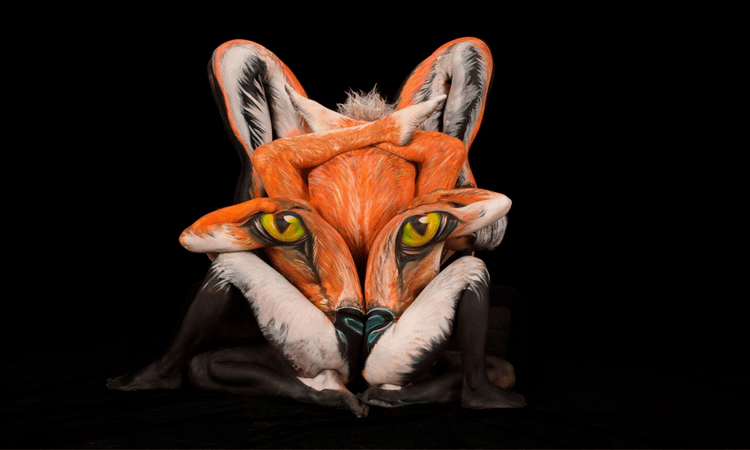 Shannon Holt, a vegan artist specialising in body painting, designed the Florida Wildlife Series, a photo-realistic representation of the creatures that live in her home state. Due to her time on Skin Wars, Holt paints animals such as foxes, owls, and other mammals. Her artwork and her life, just like life in general, is short-lived and beautiful, but can easily be lost.
12) Elephant Craig Tracy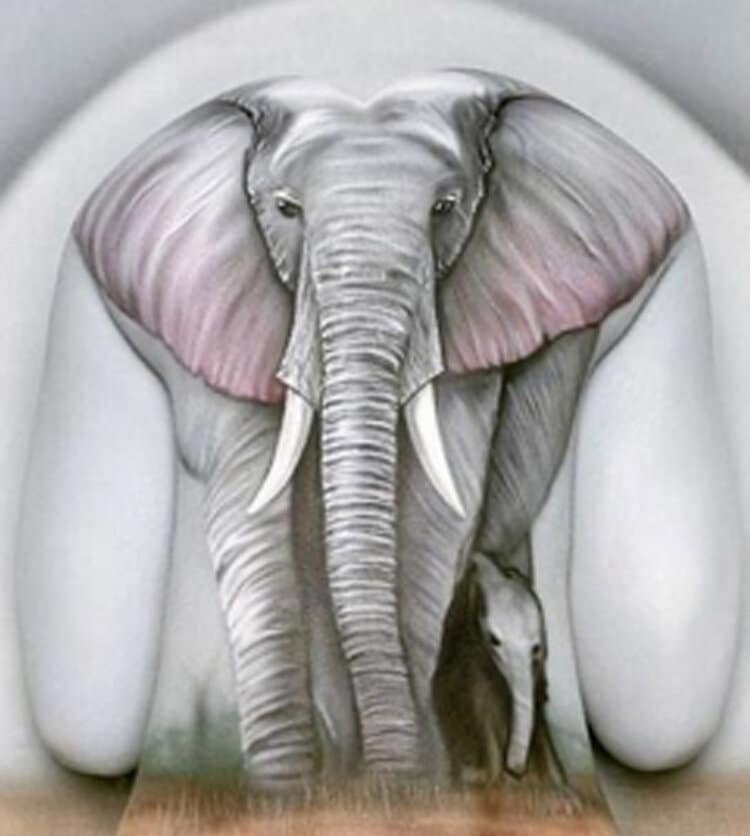 A mother elephant and her offspring are striding along with intent.
13) Lion Craig Tracy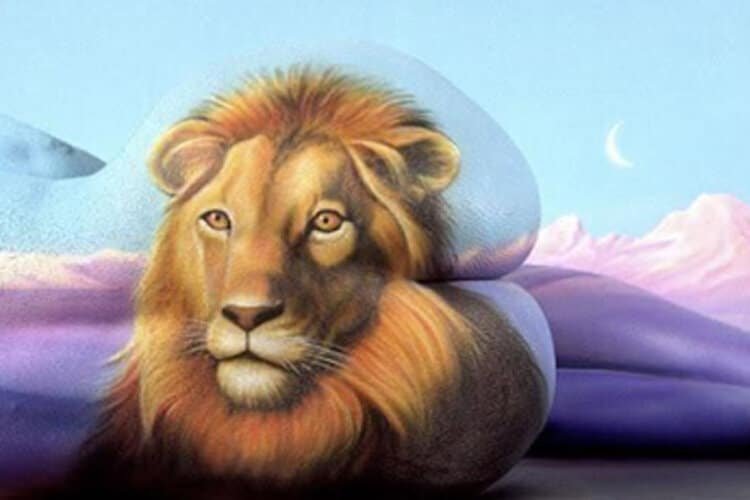 The lion has its gaze fixed on something that is situated at a distance.
14) Snake Lennette Newell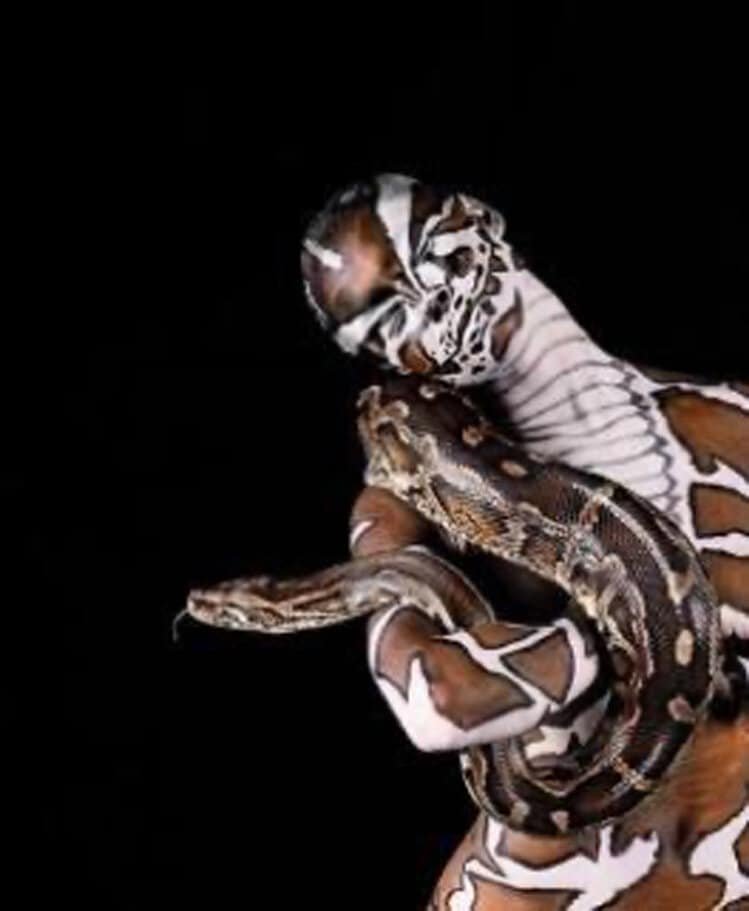 A serpent is in the process of encircling the model, and its scales are shifting from the top of the picture to the bottom.
15) Swan Guido Daniele
This majestic swan appears to be inquiring, with its vibrant blend of orange, black, and white colours creating a convincing image.
16) Contemplative Ram Scorpio Trina Merry
The contemplative Ram's facial expressions are captured exquisitely for the world to see.
17) Bald Eagle Guido Daniele
This artwork showcases a second bald eagle on the ground.
18) Butterfly Craig Tracy
The artist accentuates the butterfly in this picture by utilizing a solid white form against a patterned background.
19) Angelfish Johannes Stoetter
This image portrays the angelfish swimming through the water and the person in the shot is lying on their back.
20) Alligator Shannon Holt
In this image, it is not just a single alligator that is gazing at you; what renders it remarkable is the incredible waterline that has been rendered on the model to make the picture appear more lifelike.
21) Deer Shannon Holt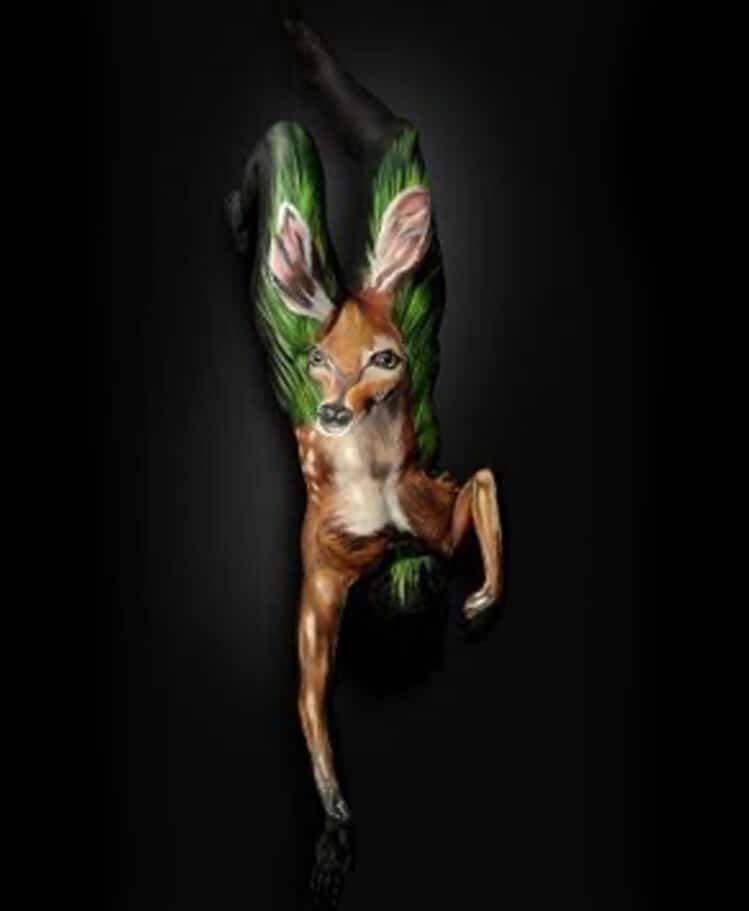 This bodypaint artwork shows a cute young deer delicately balancing on just one of its feet.
22) Hummingbird Gesine Marwedel
Gesine Marwedel's body painting makes use of strong contrasts and strong hues to display animals and birds in an expressive way. Not only does she try to convey the profound meaning of each visual component, but also to give off a curative impact.
Marwedel brings her background in art and creative therapy therapy to this point of view. She has been given various awards, such as getting the Art Prize Revier Art in 2018 and the World Bodypainting Festival in 2017.
23) Frogs Wiser Oner
You can spot two frogs curiously hopping through the forest with this piece.
24) Multicolored Bird Gesine Marwedel
An artist depicted a female figure in a manner that created an image of a multihued avian creature roosting contentedly in a night sky devoid of stars.
25) Panda Gesine Marwedel
A curious red panda peeks out from behind a log to explore what the day might bring.
26) Peacock Spinks Dean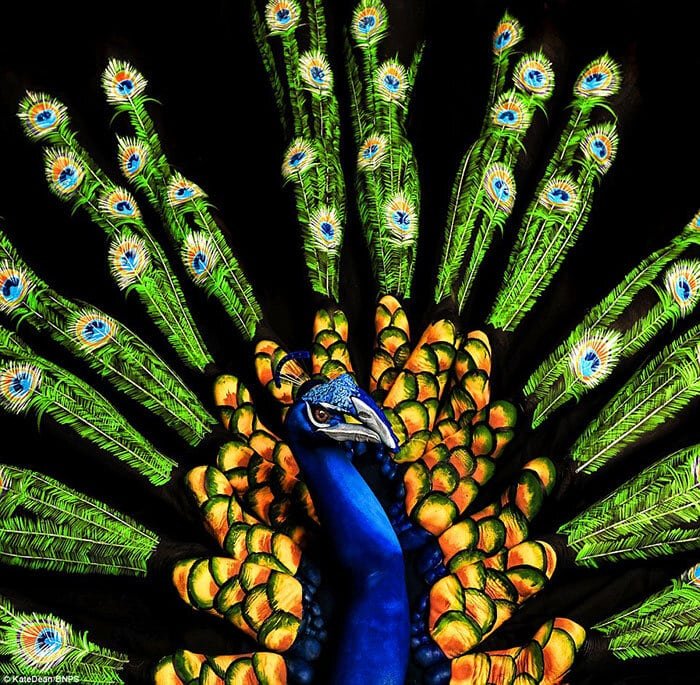 This peacock offers a vibrant visual experience with its green and yellow plumage.
27) Gecko Craig Tracy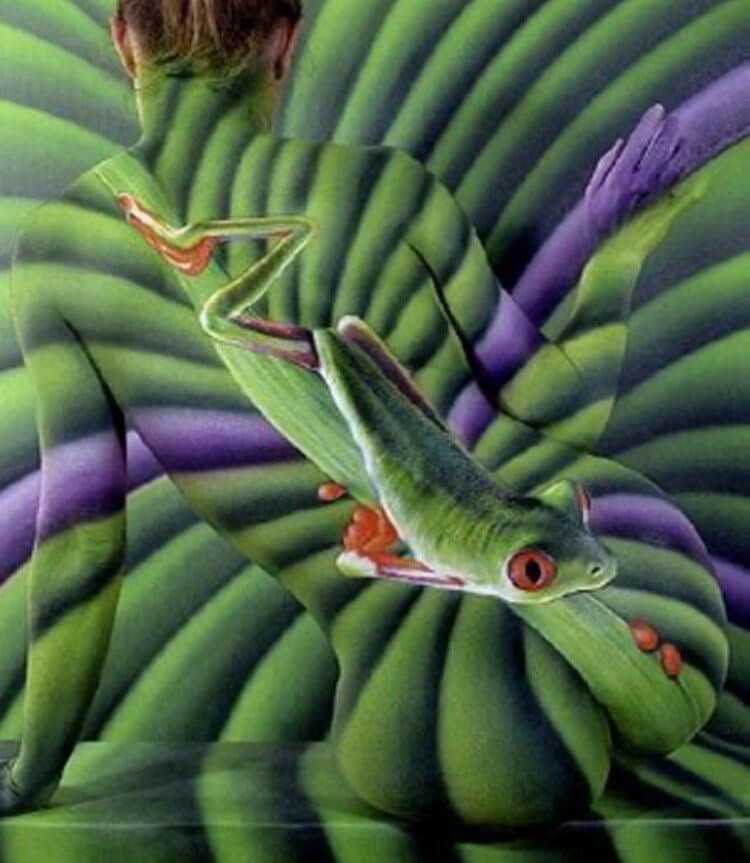 A gecko is traversing its natural environment, which has been colored to mimic the model.
28) Iguana Gesine Marwedel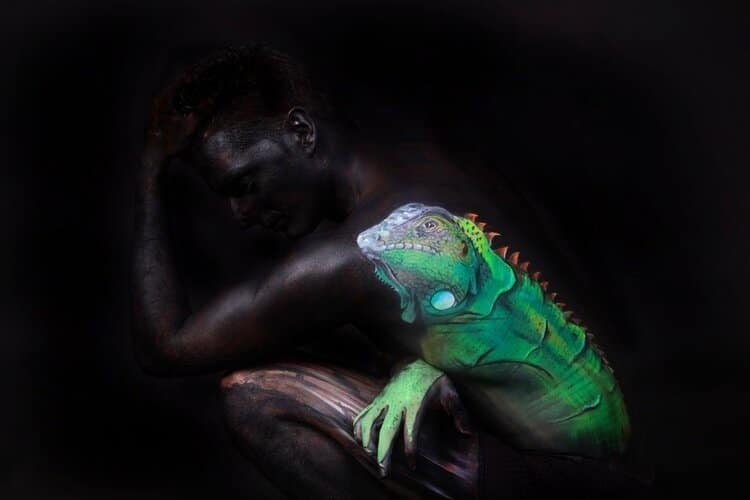 This guiltless iguana appears to be ascending from the tree limbs, pondering what commotion is so disruptive in the surrounding area.
29) Lovebirds Spinks Dean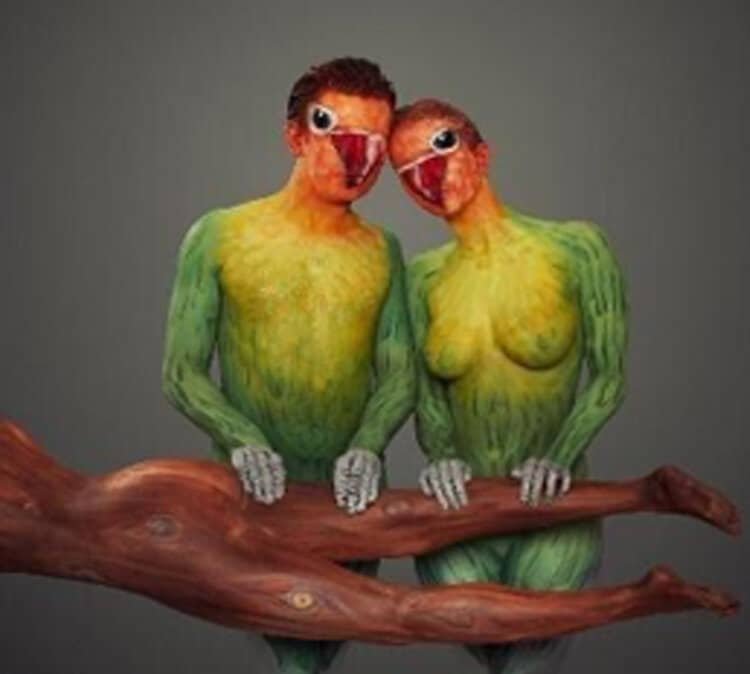 These two avians appear to be perched on a bough, which serves as a representation of being in a faithful partnership.
30) Butterfly Wiser Oner
The artist, Wiser Oner, brings an edgy quality to his animal art by creating entire nature scenes on people's bodies and narrating the stories of the creatures. He kicked off his body painting in 2006, presenting a unique, strong, and daring style. He has collaborated with many well-known companies, like NBC, TruTv, Clear Channel, and Playboy.
31) Eagle Guido Daniele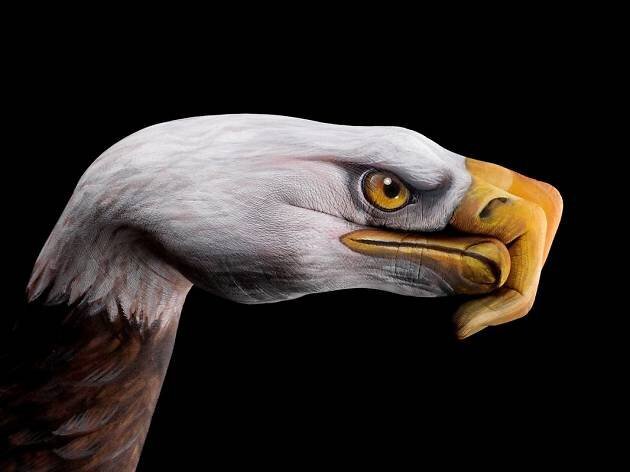 Guido Daniele is known as the "Handimal King" due to his ability to create incredibly realistic animal images by contorting his hands and fingers into intricate shapes. It can be quite tricky to discern whether the creatures he paints are real or hand-formed. His artwork has been featured in many major publications, including National Geographic a
32) Cheetah Lennette Newell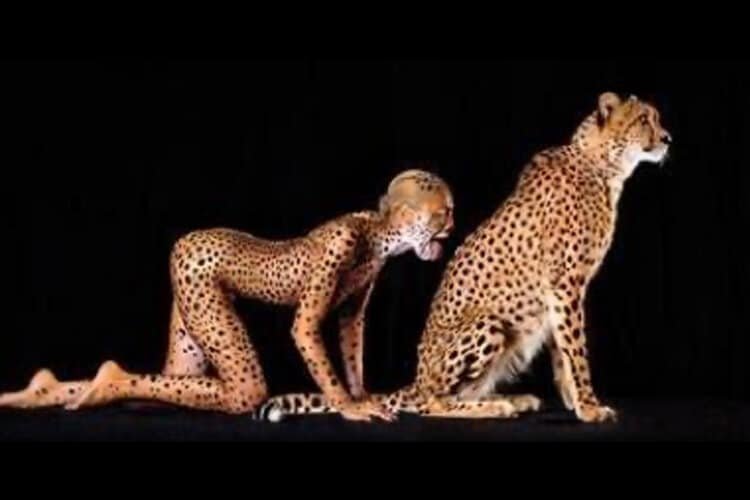 The specific pattern of spots on this model is included as part of the design, making it appear as authentic as a genuine cheetah.
33) Moaning of Life Scorpio Trina Merry
A number of models worked together to make this remarkable portrayal of Leo for Netflix's "Moaning of Life".
34) Young Chicks Spinks Dean
The parent bird is getting ready to nourish three of its babies, and the little birds are aping human hands for practice.
35) Striped Emma Fay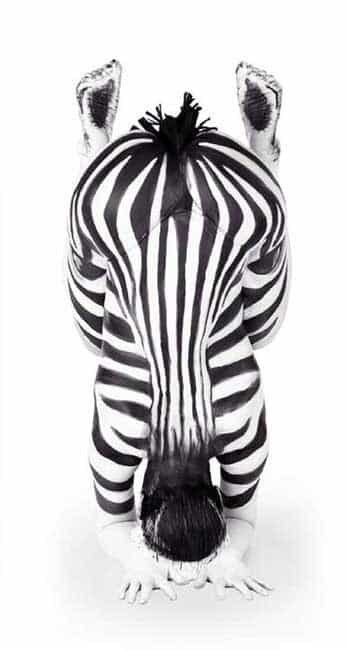 This model has been designed to give an appearance of reality by forming stripes while preserving the special arrangement.
36) Python Guido Daniele
The reflection of the light on the scales of this artwork adds to its realism and makes the python look even more lifelike.
37) Swans Gesine Marwedel
It seems as if these two swans are enjoying a tranquil moment together in the evening. One might wonder what they are conversing about.
38) Cheetah Craig Tracy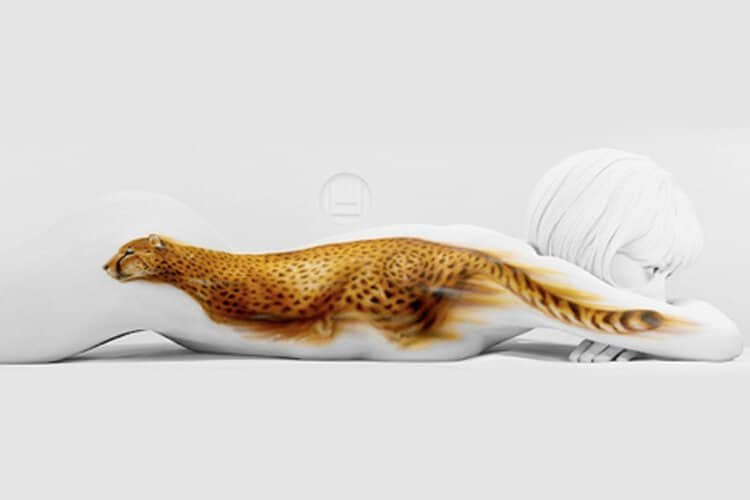 The painter has camouflaged himself against the pale backdrop of this photograph, encouraging spectators to concentrate on the lifelike representation of the speeding cheetah.
39) Bluebird Gesine Marwedel
This remarkable arrangement appears to be ready to sing, evaluating the sound atmosphere of the night to determine if it is suitable for its musical piece.
40) Chameleon Johannes Stoetter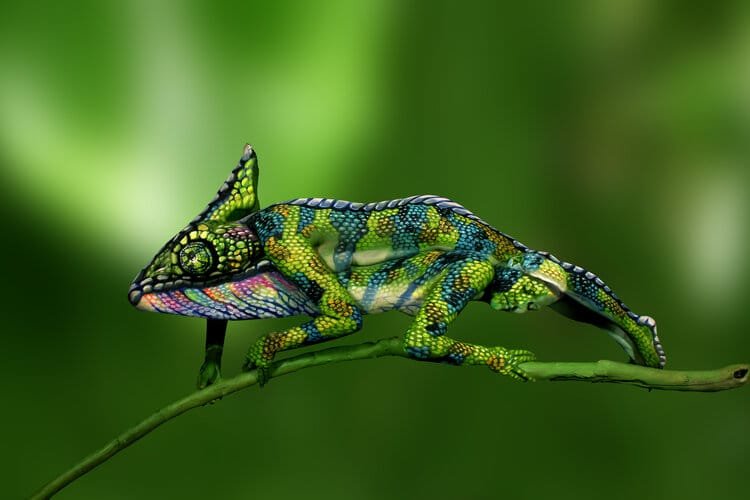 This artwork is a duplicate of a chameleon, using two replicas that are colored to imitate its variable scales.
41) Snake Johannes Stoetter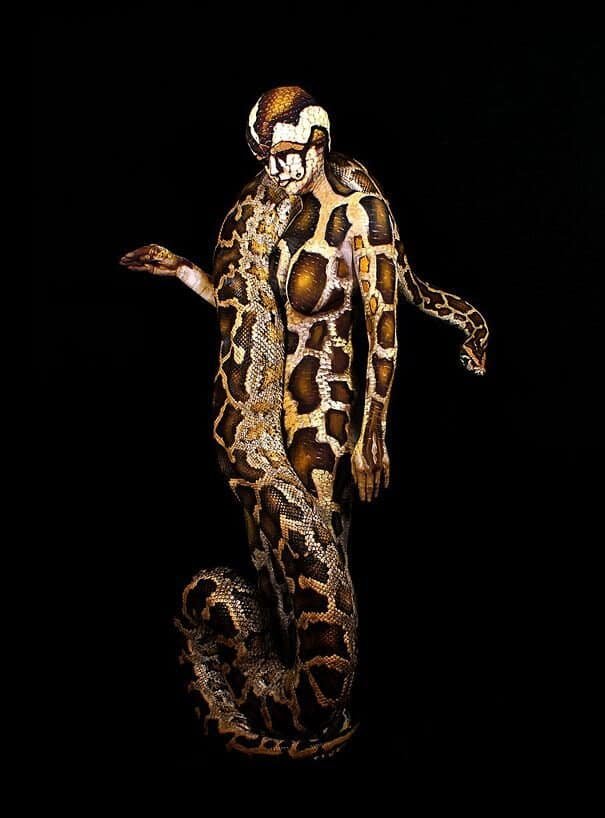 It's almost impossible to differentiate between the person and the serpent due to the incredible designs and scales.
42) Owl Johannes Stoetter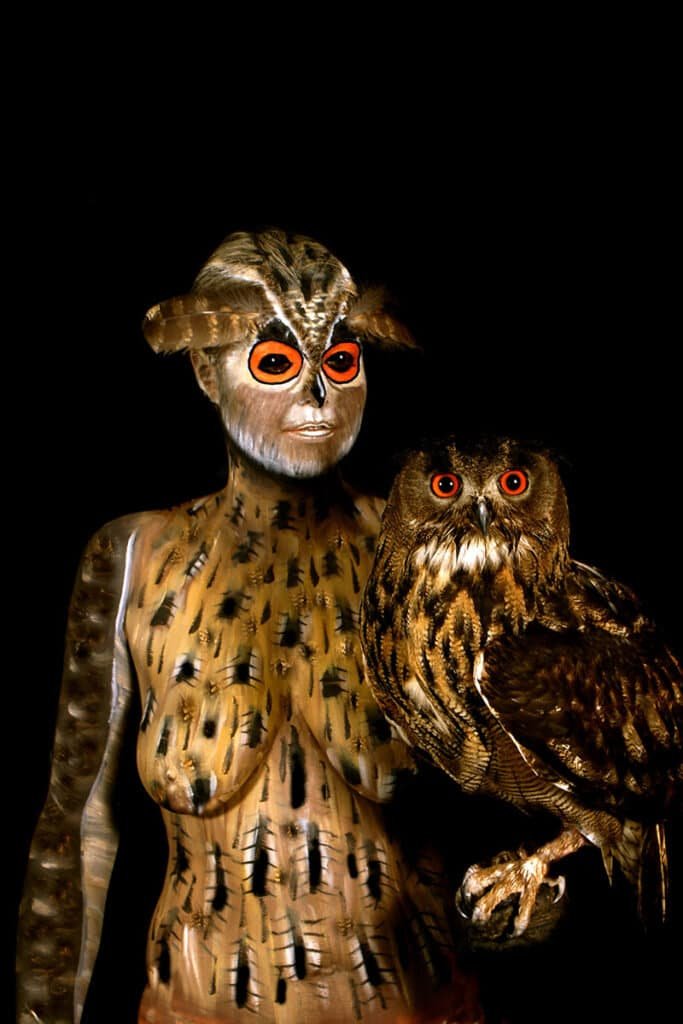 The creator employed a genuine owl as part of his demonstration to showcase his expertise and ability in this particular model.
43) Newborn Baby Spinks Dean
In this photograph of a stork soaring through the sky, a model has been utilized to act as a carrier for the infant.
44) Tarantula Emma Fay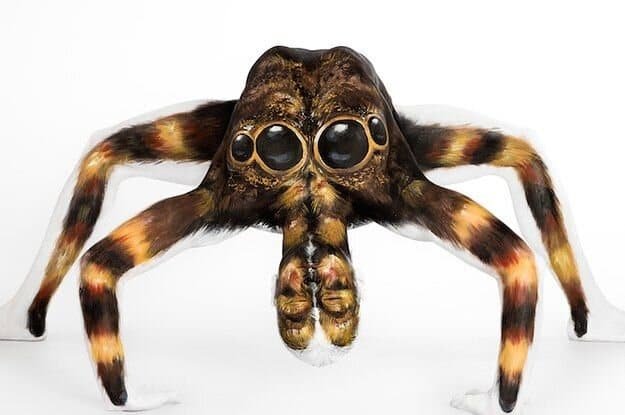 No one would be willing to compete against this tarantula in a game of "limbo", to see who can go the lowest.
45) Multicolored Parrot Spinks Dean
The depiction of a parrot's flight is illustrated by two hands coming together.
46) Frog Johannes Stoetter
Johannes Stotter is a master of artful deception. In 2013, his depiction of a rainforest frog was shared widely online, boosting his professional profile and eventually becoming the model for his company logo. Despite being honored and decorated multiple times, Stotter prefers to stick to a tranquil way of life, living in a hamlet in the alpine region of Italy where he can stay close to nature.
47) Raccoon Guido Daniele
Is this raccoon making an appeal for a meal with its eyes or is it creating a work of art with a hidden agenda?
48) Blue Heron Shannon Holt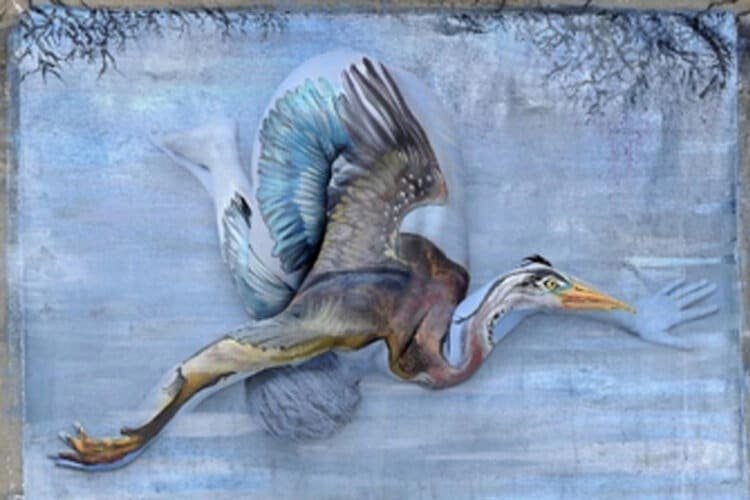 An azure Heron is primed to begin its foray for food in this photograph.
49) Chameleon Gesine Marwedel
The vivid fluorescent green and yellow shades of this chameleon are very eye-catching when it coils itself around a branch in the evening.
50) West African Mandrill Emma Fay
The mandrill, a primate from West Africa, possesses a remarkable range of vivid colors. The artist takes advantage of this fact to showcase the animal's captivating colors.
51) Seabed Wiser Oner
An underwater scene can be seen by tracing the line of body paint along the model's body.
52) Long Grass Guido Daniele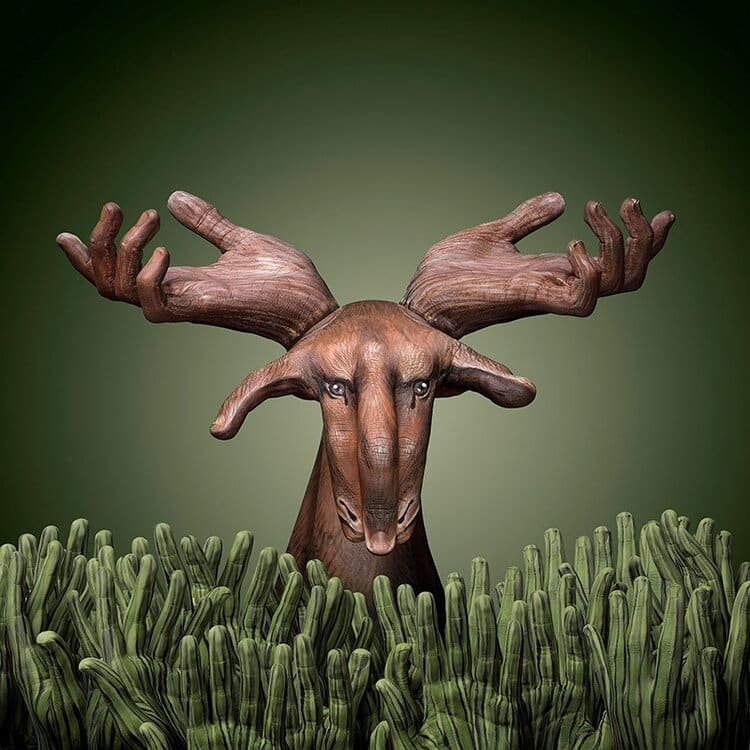 In this remarkable picture, the faces and antlers of elks are composed of multiple hands.
53) Elephant Lennette Newell
She proves that it is achievable for humans to live harmoniously alongside other species.
54) Panther Lennette Newell
This picture shows an elegant merging of the model and the thoughtful panther as she reclines.
Also Read:- The 9 Most Amazing Things You Can Do When You're Bored