We all have various skin concerns. Regardless of the troubles that a female may endure, she always wants to have that faultless, smooth, and clean face. Salon treatments may be both time and money consuming. However, there are additional effective strategies you may use to reach similar cosmetic goals.
Here are 10 Tips to Make Face Smooth and Spotless
1) Daily cleansing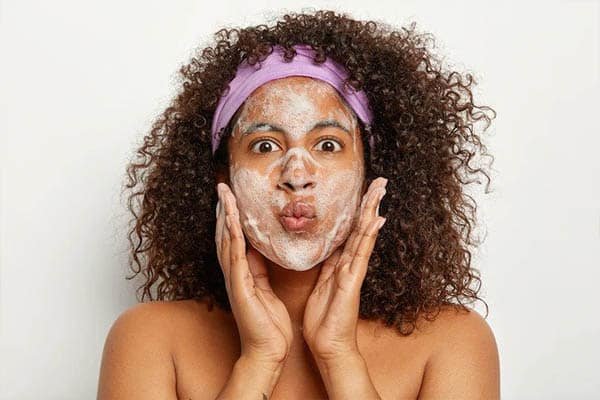 The first and most important advice for keeping the face smooth and immaculate is to adhere to a regular cleansing practice. To get perfect skin, maintain the face tidy, clean, and free of dirt and pollutants. While following CTM, it is a recommended habit to wash the face twice daily, once in the morning and once at night. Additionally, avoid using harsh chemicals on the face. Massage your skin to stimulate blood circulation and apply a light cleanser suited for everyday use. Excessive cleaning can make your skin dull and dry, so limit yourself to twice a day.
2) Toning
The second step in the CTM process is essential for keeping your skin smooth. Cleansing helps to clear the pore regions, but toning also helps to remove debris and grime from the face and maintains the skin's pH balance. It also provides essential nutrients to the skin and calms it. We frequently overlook the importance of toning in our skincare routine. But don't forget that toning is a great method to include active substances into your skincare routine. So, if you want smooth, immaculate skin, never omit this step. To achieve the best results, use alcohol-free toners.
3) Moisturizing
It goes without saying that you must hydrate your skin regardless of its kind. Obviously, the sort of skin moisturizer you use will vary. It's like food for the skin, and you have to feed it to maintain it vibrant and healthy. Hydration replenishes the skin's moisture levels, which improves skin suppleness and smoothness. A dull complexion will never be flawless, thus hydration is essential here as well.
4) Exfoliation
This is a crucial auxiliary step in any skin care treatment. Dead skin cells collect on the skin on a regular basis, halting the skin's regeneration process. Use a good exfoliant suitable for your skin type at least 1-2 times per week to maintain the skin smooth and clear of blackheads and whiteheads. This will eliminate undesirable dead cells that are the cause of clogged pores and skin blemishes.
5) Masking
Another key element in the skin care procedure is masking. If you have normal to dry skin, you should utilize masks that may give your skin a great sheen while also adding some moisture. If you have oily skin, you should invest in masks with acne-fighting chemicals. Masks containing kaolin clay or charcoal also assist to absorb excess oil from the skin, leaving it clean and immaculate. Follow the masking process 2-3 times each week. Sheet masks that address specific skin issues are also an option. In the long term, this will result in smoother, cleaner skin.
6) Healthy Diet Routine
While using external beauty items is beneficial, nothing beats maintaining a healthy diet plan. Always strive for a well-balanced diet that includes enough amounts of proteins, carbs, vitamins, and minerals. Eat a lot of fresh veggies and fruits since they can help with many skin issues and give you a natural shine. Refined carbs, sweets, and packaged foods should be avoided. Always choose fresh, handmade foods to provide the optimum nutrients for your skin.
7) Drink Plenty of Water
Although this is a minor point, I believe it should be included on the list. Your water consumption should be determined by your weight, location, and amount of physical activity. If you are exposed to a hot climate, you should drink enough of water to stay hydrated at all times. Water flushes away pollutants and provides your skin a pristine and young appearance. So, never, ever disregard this basic beauty suggestion. To stay hydrated, eat water-based fruits and vegetables like cucumbers and watermelons.
8) Makeup Removal
Removing makeup is just as crucial as applying it. It can also cause breakouts, dullness, and the buildup of dead cells on your face. As a result, it is important to remove your makeup before going to bed. Additionally, apply water-based makeup rather than oil-based makeup since it clogs pores less.
9) Use Sunscreen
Using sunscreen to get a clean appearance is reasonable, but you may be wondering how it assists to smooth your skin. It absolutely does!! So, anytime you go outside, always apply SPF-rated sunscreen. It protects your skin from UV damage and slows the aging process. It also keeps wrinkles and dark spots at bay. This creates a shield on your skin and offers you a smooth and fresh appearance. In place of sunscreen, you can use a moisturizer or BB cream that has SPF. It has a dual purpose in terms of protection.
10) Acquire Enough Sleep
Also refer to : 10 Best Body Lotions For Glowing Skin
In addition to the previously listed suggestions, remember to get your daily allotment of beauty sleep. This is critical for keeping your skin renewed and fresh. Sleep deprivation causes dull, dry skin. Spots, puffiness, and dark circles might also result. Sleeping promotes cell regeneration and boosts blood circulation. Ensure you maintain an 8-9 hours of good sleep every day. Also, avoid smoking and drinking because they both hurt your skin in a variety of ways.